Theatre for the Very Young
Ashley is the Founding Artistic Director of Kerfuffle, a midwestern theatre and dance company for very young audiences. She believes in partnering directly with young people to create work for them and has developed The Caterpillar's Footprint and Nested with Kerfuffle, and Wynken, Blynken and Nod and The Music Makers with The Rose Theater. As a performer, she has worked on ShadowPlay with Kerfuffle and The Music Makers, and Farmer Brown's Birthday Surprise with The Rose Theater.

With the Rose, she will direct a remount of Stephanie Jacobson's adaptation of Thumbelina in Winter 2019 and develop You and Me and the Land of the Peas for a Nebraska/Iowa tour to preschool and daycare centers. She is currently working on Nested, a nonverbal theatrical happening centered around immigration and family. It will be presented at The Union for Contemporary Art in Omaha in early December 2018.


javascript.site.published.footerSignup_2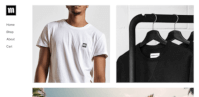 javascript.site.published.footerV2ToastText